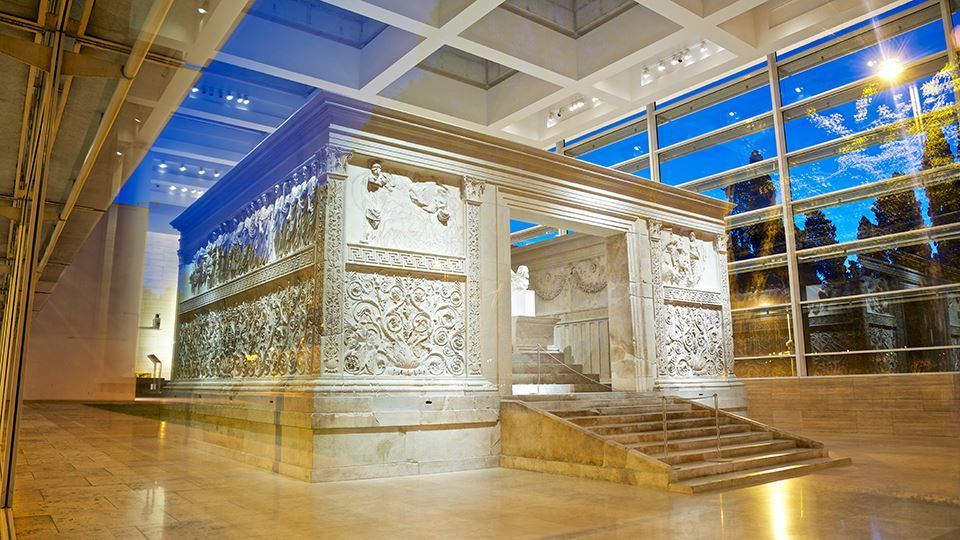 by admin admin
2 dic 2019
1880 Views
Itinerary "Augustus" (Ara Pacis, Piazza di Spagna, Trinità dei Monti, Villa Borghese, Vie del Tridente)
Heading towards the Lungotevere Degli Altoviti and skirting the Tiber in the direction of Lungotevere Marzio you will come across the famous Ara Pacis, a monument erected at the end of the 1st century BC to celebrate the Peace that Augustus brought to the Mediterranean. The monument is not in its original location but was rebuilt here during the fascist period, because in the area behind it there is also the mausoleum of augustus. Today the museum of the Ara Pacis, the building that protects the monument built on the project to the American architect Richard Meier with the most advanced technologies and quality materials, often hosts exhibitions. Passing next to the Mausoleum of Augustus it is easy to reach Piazza di Spagna: here at the foot of the famous Spanish Steps, there is the fountain built between 1626 and 1629 by Bernini, known as the Barcaccia.
Next to the staircase is the Keats-Shelley House, the last home of John Keats, who died there in 1821 at the age of twenty-five. This museum house contains a rich collection of paintings, sculptures, manuscripts, objects and first editions of the works of Keats, Percy Bysshe Shelley and Lord Byron, or the most important exponents of the second generation of romantic English.
If you climb towards the Church of the Santissima Trinità dei Monti inside the single-nave church you can admire valuable works of art, such as the two works by Daniele da Volterra, a pupil of Michelangelo: the famous "Deposition" and "the Assumption "(where he also portrays his master). An iron gate separates the oldest part. Another unmissable work is the fresco of the Virgin, note
known as the "Mater admirabilis!" (or "admirable Mother!") and its chapel of pilgrimage. Next to the church there is the convent of the Sacred Heart, famous for the studies of a scientific nature carried out by the order of the Minims, who set up a rich library in the field of biology, mathematics, physics and natural sciences. From here you can proceed towards Villa Borghese with its Terrazza del Pincio which overlooks the beautiful Piazza del Popolo and from which you can see the dome of San Pietro. Villa Borghese is one of the most beautiful parks in Rome with woods, ponds, fountains, gardens, historic buildings and museums to visit.
If, on the other hand, you want to do some shopping from Piazza di Spagna, the famous streets of the Trident also begin: Via Condotti, Via Borgognona and Via Frattina. they are known as the most expensive streets of the Eternal City. Bulgari, Armani, Hermes, Tiffany and Versace are just some of the big brands that have chosen this location to build their stores. There are also many jewelery shops that are concentrated in this area.