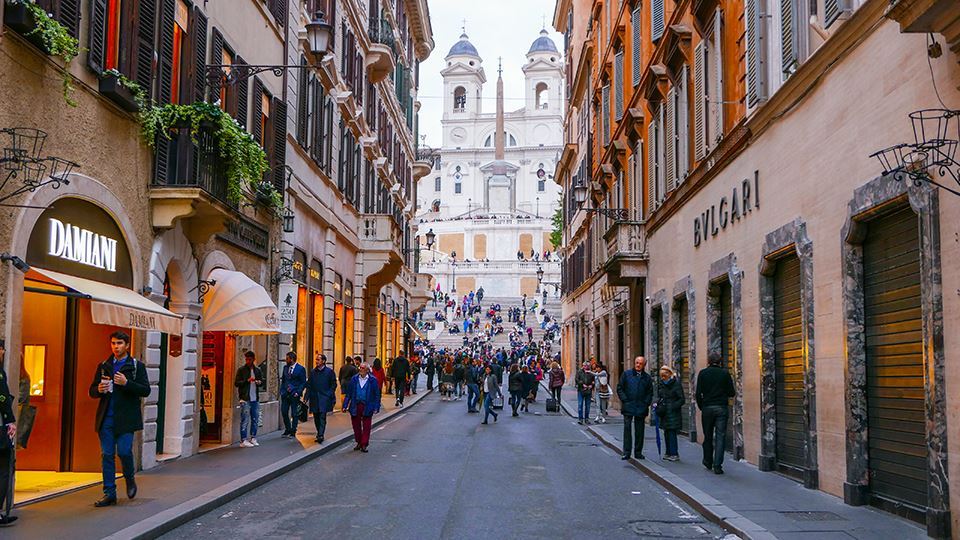 by admin admin
2 dic 2019
1669 Views
# 1 The Trident routes: via Condotti, via Borgognona and via Frattina.
These roads start near Piazza di Spagna (Spanish Steps) and are known as the most expensive streets of the Eternal City. Bulgari, Armani, Hermes, Tiffany and Versace are just some of the big brands that have chosen this location to build their stores. There are also many jewelery shops that are concentrated in this area.
# 2 Via del Corso
Over a kilometer and a half of shops in the center of Rome that extends from Piazza Venezia to Piazza del Popolo. In the center is the Alberto Sordi Gallery (formerly Galleria Colonna). There are both major brands and shops with more affordable prices.
# 3 Via del Campo Marzio
Still in the streets of the historic center, one cannot but take a walk among the boutiques of Via del Campo Marzio, parallel to Via del Corso. Today it is full of elegant shops and is known above all for the sale of antiques and objects for the home. While shopping, you can at the same time see sumptuous palaces like Palazzo Borghese and Palazzo Farnese, or take a break from coffee shopping in the characteristic piazzetta Sant'Eustachio. From here, moreover, you can reach other streets full of clothing, jewelery and artists shops, such as Via Margutta, Via del Babbuino and Via di Ripetta.
# 4 Via del Pellegrino
Via del Pellegrino was first called "via degli orafi", to underline the great quantity of goldsmith shops found in this area. The current name is linked to the nearby Osteria del Pellegrino which welcomes the faithful visiting the Basilica of Saint Peter. There are shops that sell handmade objects, frames, lamps and small furniture, as well as those of shoes, bags and clothes of some of the most renowned Roman stylists of the moment.
# 5 Via del Boschetto
Main street of the characteristic and trendy Monti district, with shops to buy alternative and vintage clothes and accessories. There are also craft shops and art galleries. There is also the famous Monti Market, which every Sunday attracts hundreds of onlookers looking for vintage and handmade objects.
# 6 Via Cola di Rienzo
Not far from Vatican City in the Prati district. Via Cola di Rienzo is located, with the nearby Viale Giulio Cesare, Via Ottaviano and Via Candia. There are shops for all tastes and all budgets, so much so that for many it represents the new Via del Corso.
# 7 Via del Governo Vecchio
Via del Governo Vecchio is located near Piazza Navona. If you are looking for any vintage object this is the place for you. You can find elegant boutiques very close to the historic vintage shops, where you can buy clothes from the Sixties and Seventies and used ones. Also worth mentioning is a small bookshop, Altroquando, which specializes in cinema, where books on the screenplay, posters and posters of the all-time great masterpieces are on sale.