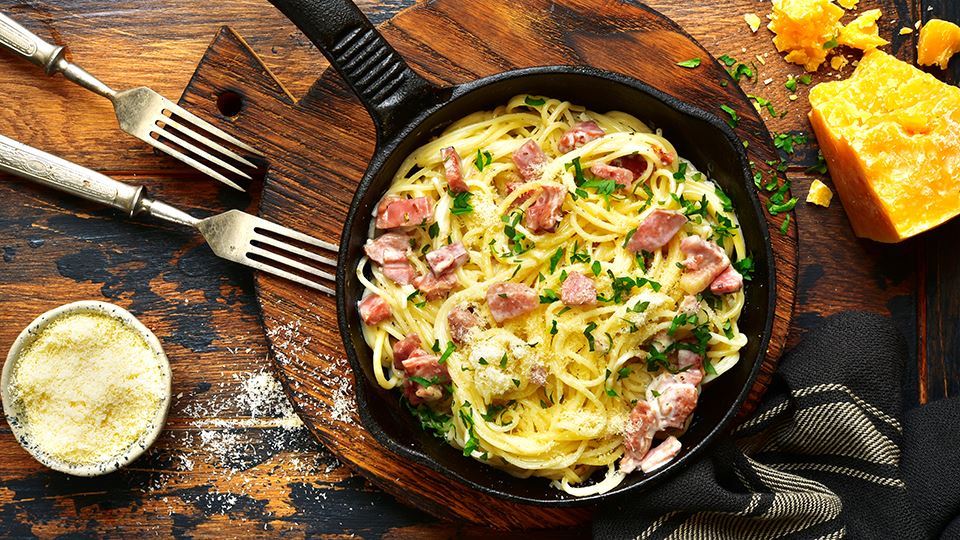 by admin admin
2 dic 2019
1195 Views
To taste traditional Roman dishes near Rome Luxury House there are several possibilities. Very close there are the Trattoria da Luigi which serves local Roman dishes with wooden walls, with vintage plates, and outdoor tables, and Trattoria Polese or Alfredo and Ada, to enjoy a dinner in a typical trattoria. At Via del Governo Vecchio 123 there is also 433 Rome, with a Roman and Mediterranean menu served in an informal restaurant and dehors. Or there is Pantha rei nearby, which offers Italian cuisine and pizza, even gluten-free. For a star-studded menu just on Via del Governo Vecchio there is Pipero Roma and the restaurant Il Pagliaccio by chef Antony Genovese.
For a quick meal there are at Via del Banco di Santo Spirito La Fraschetta of Castel Sant'Angelo or the Salumeria, at via dei Banchi Vecchi La bottega pasta factory with kitchen, or at Via del Governo Vecchio Cantina and Cucina. For takeaway pizza on Via Vittorio Emanuele II you will find Vip Very Italian Pizza.
Taking a few more steps you meet Baccano, a bistro with a retro touch, in a 19th century building offering Roman and Mediterranean dishes but also a cocktail bar, and the Antica Birreria Peroni restaurant-brewery with wood paneling and frescoes, which from the 1906 offers typical dishes and local beer.
If you want a fish dinner you can easily reach Bistrot del Mare, via del Governo Vecchio, an elegant but informal restaurant, and also nearby Pirò Osteria di Pesce. Also nearby are the Sapore di Mare Restaurant and the San Lorenzo Restaurant. Taking a few more steps, in Via Milano you will find Matermatuta where you can enjoy creative fish dishes, in elegant spaces with two-tone furnishings with contemporary details. Also nearby, in via Palermo, Sa Tanta Crostaceria is a refined fish restaurant, champagnerie and oyster bar, with tasting menu.
For a different experience, you can easily reach the ghetto to try Jewish-Roman cuisine. Renato al Ghetto is highly appreciated with his Hostaria Kosher, and very particular Yotvata, kosher restaurant-pizzeria offering typical Italian dishes and cheeses produced according to Jewish tradition.
For a romantic evening in Rome you cannot miss a dinner in a roof garden: for example there is La terrazza dei Papi, a romantic and panoramic restaurant on the roof-garden of a hotel, but also the Roof garden restaurant on the terrace of a hotel 4 stars, overlooking the Imperial Forums.
To live intensely the "nightlife" of the night you have to get lost in the alleys of Trastevere to discover its flavors and traditions, among taverns and trattorias, starred restaurants with gourmet dishes, places to stop for an aperitif, for a cocktail after dinner or for drink craft beers.
If you are looking for gourmet dishes, there is Zia, in via Goffredo Mameli 45, where the young chef raised at the court of starred chef Anthony Genovese (Il Pagliaccio), Gordon Ramsey in England and George Blanc in France, proposes a modern kitchen, with recipes and traditional cooking techniques combined without excesses with innovative and fun ideas. But there is also the Glass hostaria restaurant in vicolo de' Cinque 58, by Cristina Bowerman, who in an elegant and refined atmosphere offers high quality dishes with different tasting menus for vegetarians too.
Then there are the trattorias that offer the best dishes of the Roman tradition (amatriciana, gricia, carbonara, cacio e pepe, pasta with cow's-tail sauce, tripe alla romana, meatballs with sauce, lamb scottadino) such as Enzo al 29 in via dei Vascellari 29. From Brusco lo strabuono, in vicolo del Cinque 22, traditional flavors are laid on fresh bread. For an unusual meal there is Eggs, in via Natale del Grande 52, a room entirely dedicated to eggs, or the Prosciutteria in via della Scala 71, with cutting boards rich in cheeses, salami, porchetta, sausages and other specialties for an aperitif or dinner.
If you are looking for a fast sneak, try the historic bakery in La Renella in Via del Moro 15, even on weekends and when it remains open for "midnight snacks". A specialty is the white pizza and "mortazza", that is pizza stuffed with mortadella, pumpkin flowers and anchovies. Or there is the famous Trapizzino, in Piazza Trilussa 46, with the now international pocket of pizza stuffed with Roman specialties.
The best cocktails in Trastevere are drunk from Santo, via della Paglia 40, where you can also eat. From Ma that you have come to do, in via Benedetta 25, you can instead taste the very crafted and carefully selected beers. For drinking and not only you can also go to the Enoteca Ferrara in Piazza Trilussa: for an aperitif at the bar, for brunch, for a dinner and only for the large selection of beers.
To close in "dolcezza" in via di San Cosimato 14 / A there is Otaleg considered not only one of the best ice cream shops in Rome, but also in all of Italy, and in via Luigi Santini 22-23 the pastry and boulangerie Le Levain, where the French tradition is combined with the Apulian soul of the pastry chef Giuseppe Solfrizzi, a pupil of Alain Ducasse.